Kids
Everyone enjoys themselves from the very first moment. The youngest guests can play to their heart's content at the indoor play area and take a dive in the ball pool. Climbing, clambering and discovering are all possible on Adventure Island or the Vernuverpad path.
Being bored is
impossible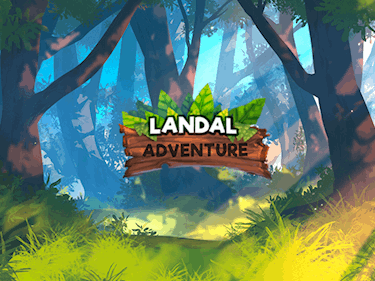 Landal Adventure: our new game for kids
Are you going to Landal GreenParks with your kids soon? Download our newest, innovative app Landal Adventure and send your kids on a digital scavenger hunt through nature in the holiday park. By collecting resources, they will be able to design and build their own digital tree house plus check it out in augmented reality. Discover Landal Adventure – our new game for kids
Adventure Island

, full of pleasure

What could be more fun than being sporty and active outdoors with the whole family? Whether you fancy building your own boat, lifting tree trunks, want to learn knots like a real scout, or would rather bake bread by the campfire - it's all possible on Adventure Island. You can enjoy yourself to your heart's desire on Adventure Island. Experience the adventure!

Watch the video
Indoor play area
Discover the world of fun and adventure. Clamber inside and run to the obstacle course. Climb up and try to keep your balance on the rope bridge. Whoosh down the slide and land in the ball pool. Back at the start? Then we'll just have another go! Endless climbing, clambering and swaying.
Vernuver path
'Vernuveren' means 'to have fun' in the Drenthe dialect. Explore wherever the path takes you. Frogs, salamanders, tadpoles, balancing on tree trunks, scrambling over stepping stones... people of all ages will have fun on this path, in and around the water. Your discovery tour can begin!
Scavenger Hunt
We have a new resident at Landal Orveltermarke. Join us on a scavenger hunt to help us find this new resident in Drenthe. This scavenger hunt is suited for all ages and takes you on a tour across the entire park.
Freizeitprogramm
In Landal Heihaas gibt es das ganze Jahr über viel zu erleben. Unser Fun- & Entertainment-Team bereitet Ihnen und Ihren Kindern einen unvergesslichen Urlaub. Vom gemeinsamen Basteln im Bollo-Club bis hin zur Spurensuche mit dem Förster. Wir organisieren Aktivitäten für Jung und Alt.
Children's bungalow
Moms and dads take note! Landal Orveltermarke offers holiday bungalows especially equipped for children. Taking a bath becomes great fun in a child-friendly bathroom. A games table keeps the children entertained while they eat a snack. And happy kids makes for happy adults! Take a look at our child-friendly bungalows
4CK
,
4BK
,
4LK
,
6CK
and
6BK.